About The Whitney Foundation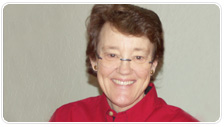 Share what has been given to you...
These simple words sum up the spirit of The Whitney Foundation and its founder Kathryn Whitney Stephens.
With this vision and a two million dollar endowment, Kathryn started The Whitney Foundation in 1999. In July 2000, a board of trustees was established to assist in the carrying out the true spirit of the Foundation. By 2010, when the Foundation celebrated its tenth year in service, over a million dollars had been given out in grants. Many lives had been changed and many communities served!
The Whitney Foundation seeks to support those projects that may "fall through the cracks" in traditional funding sources.
What makes the Whitney Foundation unique is the personal relationship that is established with each grantee. Our Board members work toward developing personal relationships throughout the grant process through site visits, phone conversations and personal meetings.
Kathryn passed away in 2005, but her work lives on….
Our Board

The Whitney Foundation Board of Directors is a dedicated group of individuals who understand and carry out the Foundation's mission. They assist the Foundation in the entire grant process. The board meets quarterly for on-going grant making decisions. Board members review, interview and make site visits of projects. They also perform follow up visits to the projects that are funded by the Foundation, to ensure that the mission of the foundation is well served to its completion in every project.
Song Vang
Food to Share Project Manager, Fresno Metro Ministry, Fresno, CA
"I have been impressed with the urgency of doing. Knowing is not enough; we must apply. Being willing is not enough, we must do." - Leonardo da Vinci

Barry Falke
Executive Director, American Red Cross - Central Valley and Kern Chapters
"The best way to find yourself is to lose yourself in the service of others." - Mahatma Gandhi
Nicole Sirak-Irwin
Regional CEO
American Red Cross
Greater ID Chapter
Boise, ID
"Never doubt that a small group of thoughtful, committed citizens can change the world. Indeed, it is the only thing that ever has." - Margaret Mead
Dr. Don Simmons
Distinguished Lecturer, CSU Fresno
"We must Do Good Well."
Arthur M. Lopez
Retired Deputy Director, Department of Rehabilitation, State of California, Fresno, CA
"Together we can" y "Si se Puede."
Dr. Jenelle Pitt
Associate Professor, Dept. of Counselor Education & Rehabilitation, CSU Fresno, Fresno, CA
"Passion, peace, joy, laughter, goodness, kindness, and love are ingredients for healthy living."
Peter Vang
Executive Director, LAO Veterans of America, Inc., Fresno, CA
"I have learned that people will forget what you said, people will forget what you did, but people will never forget how you made them feel" - Maya Angelou
Our Staff

The Whitney Foundation staff is friendly and always willing to respond and assist you with all your questions and concerns.
Ellen Bush
Executive Director
"Since its inception The Whitney Foundation has been based in relationships. These include Kathryn's mother, whose legacy made the original endowment possible, as well as the grantees and Board members who all work together promoting self-sufficiency. I am sure our founder is as amazed as we are at the good work that continues as we follow her example to "share what has been given to us."
Sheryl Bavoso
Administrative Coordinator
"Life is a journey.. Kathryn's friendship, working and participating in the Non Profit community and loving my work, Embrace the journey...I do."